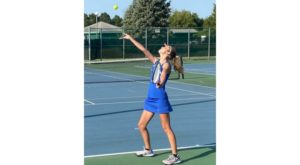 Mountain Dwelling's Macie Heide serves throughout her match Thursday at Springfield Kickapoo. (Picture by Michael Lance)
The Mountain Excessive College lady's tennis workforce earned a tie Thursday afternoon at Springfield Kickapoo. The groups cut up their 14 matches, ending in a 7-7 tie.
Successful in singles play for the Girl Bombers had been Macie Heide, Micaela McLean, Cambelle Lance and Josei Arp. Successful in doubles motion had been the groups of Hannah Baker and Bentleigh Croom, Schmeski and Zoe Croom and Wilkerson and Recktenwald.
WebReadyTM Powered by WireReady® NSI
1386567763
Mozilla/5.0 (Macintosh; Intel Mac OS X 10_14_6) AppleWebKit/537.36 (KHTML, like Gecko) Chrome/83.0.4103.116 Safari/537.36
1bcea548f23ac5148b6046b4cdbb876b3580ab14
1